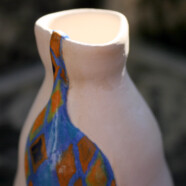 Jun

02
Tags
Related Posts
Share This
Blue Tear Drop Sake set
This simple little vessel has a big splash of colorful pattern dripping from its rim. Fun for serving sake to your friends!
This sake set is made from white earthenware clay, it is food safe and can be put into the dishwasher if you must but if you ask him he will tell you that he would prefer to be lovingly hand washed.
Rather than using glaze, the surface was treated with white terra sigillata (a solution made from the finest clay particles that leaves a sexy luster/sheen without the use of glaze) in this case the surface is burnished to a finish that looks somewhat like bone and the colorful pattern was hand painted on with velvet underglaze and a dilute clear glaze on top.
The bottle holds 2/3 cup of liquid and is 4.5″ tall and each cup will hold 1/16th cup, so you can fill the cups up several times before the bottle is empty.